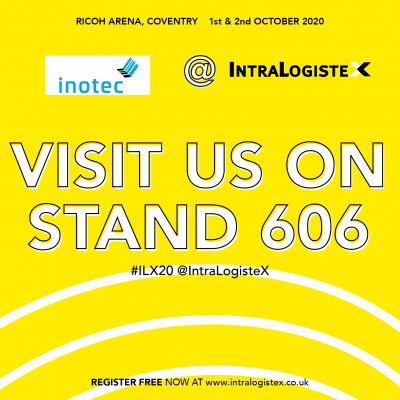 22nd July 2020
Exhibitors to the IntraLogisteX exhibition this October can visit inotec UK on stand 606. The inotec team will be at the logistics event at the Ricoh Arena, Coventry from Thursday 1st October through to Friday 2nd October 2020.
The barcode, labelling and floor marking specialist will be on hand to discuss its complete warehouse and logistics solutions. The extensive product range covers warehouse signage and labelling as well as line marking and floor painting.
David Stocker, sales director, inotec UK comments: "The experienced inotec UK team will be on hand at the IntraLogisteX exhibition to discuss all your warehousing issues and needs. In addition to exploring our product range, visitors to our exhibition stand can also book a free health and safety site survey.
"A member of the inotec UK team will visit your site and assess any issues you may have and how these can be rectified to improve health and safety as well as efficiency. The survey will also take into account the particular challenges in the workplace imposed by the impact of COVID-19. Emphasis will be placed on new safety measures that have been introduced to ensure the well-being of staff including social distancing guidelines.
"This show special is a great opportunity to ensure your facility is up to date with the latest health and safety rules for walkways and signage. We look forward to welcoming visitors to our stand – 606."