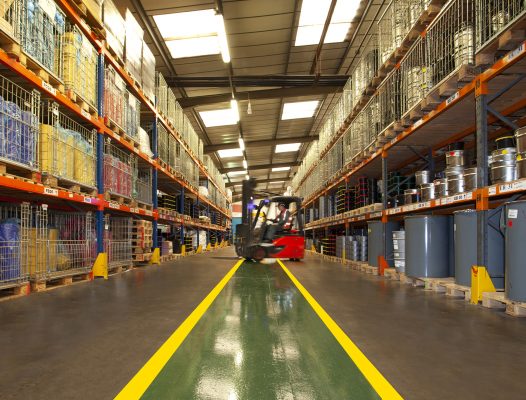 19th August 2019
Warehouse finishing solutions provider, inotec UK has installed 303 metres of infill walkway for AkzoNobel at its production site in Hull. On this site, AkzoNobel produces printing inks and varnishes predominately for metal packaging. The new walkway reinforces health and safety procedures by ensuring there is a clearly marked route separating pedestrian and fork lift truck traffic throughout the site to minimise the likelihood of collision.
Previously, AkzoNobel had twin line walkways which had become worn out due to warehouse traffic and had lost their visibility. With health and safety being number one priority within the warehouse, AkzoNobel needed to not only replace the existing worn lines but also enhance their visibility to eradicate any possible confusion between pedestrians and vehicles.
To co-ordinate with AkzoNobel's internal colour scheme, inotec installed solid green infill walkways with yellow tram lines to clearly demark safe areas for pedestrians. In order to guarantee the lifespan of the walkways, inotec installed them using the durable DURAline Rapid Shield paint system cured with an ultraviolet top coat. The addition of the UV topcoat is essential to ensure the walkways will withstand heavy warehouse traffic for several years.
Simon Underwood, site manager at AkzoNobel comments: "We needed to replace our existing walkways as not only were they worn and faded but also they were done a long time ago. Since then, a lot of our equipment has been relocated within the factory and the walkways needed to be modified to reflect this.
"Working with inotec, we designed walkway areas to keep pedestrians away from machinery and general working areas where trucks may operate. It is essential from a health safety perspective for us to keep pedestrian and truck traffic operators segregated; this allows both to focus on their work and prevents any accidents.
"We stayed operational during the whole installation process and inotec handled this extremely well. We would assign them one area at a time to complete and because the DURAline Rapid Shield UV paint system cures within a few hours, it wasn't long until we were working in that area again.
"They completed the installation around our schedule within just three weeks, with minimal disruption and downtime. Overall we had no problems and we are happy with how the new walkways service our warehouse."
Mark Williams, HSE&S specialist for AkzoNobel concludes: "The great thing about working with inotec is that they were very flexible with us. When we needed a re-designation of walkways within the Hull site, inotec visited us and helped us draw up a plan. Initially it didn't meet AkzoNobel's guidance and standard but inotec was very good at redesigning an alternative solution for us.
"From a health and safety point of view, it's very important that both pedestrians and fork lift truck traffic can travel round the site safely. The infill walkway forms part of the controls implemented to make the segregation of pedestrians and truck traffic extremely clear to both personnel and site visitors. It's now really obvious where people should be walking – there is no misunderstanding."