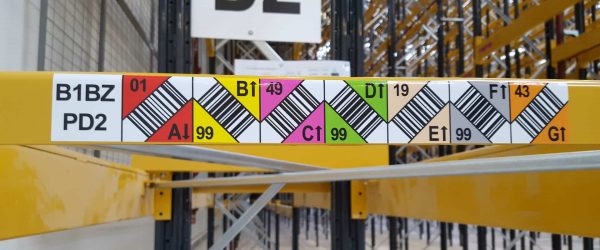 17th August 2021
Warehouse signs and labels are one of the most important aspects of good warehouse management. Proper signage turns warehouse space into a productive, safe and secure environment for employees, and is an essential part of efficient warehouse operations.
As one of Europe's leading providers of warehouse labels, we have put together this guide to help you understand the key benefits, best practices and application options of warehouse labelling.
The advantages of a properly labelled warehouse
The key benefits of an appropriately labelled warehouse include:
Automated picking and fulfilment: delivering increased efficiency, which in turn increases employee and customer satisfaction levels.
Complete inventory tracking and asset control: Tracking the movement of materials coming in and out of the warehouse. As it eliminates overstock and understock situations and is a hallmark of efficiency.
Leverage emerging IT technologies: A properly labelled warehouse maximises the use of IT technologies in warehouse management efficiency.
Warehouse signage best practices
Warehouse location labelling – This involves a lot of attention to detail and can be a complicated matter.  There are however a few industry standards that can be followed to avoid errors and confusion, and therefore save a lot of time and money in the long run.
Warehouse labels come in an endless variety of materials with varying levels of durability and readability; they include adhesive stickers, magnets, or metal labels. Choose the right label materials for your long-term goals, application, environment and budget.
Direct your pickers through your warehouse space with well planned pick paths and pick sequencing using labels as signposts. This will ensure that employees travel the shortest, most efficient route to collect items on their picking list.
Shelves are best numbered from the ground up. This makes it easier to add more height as you grow and eliminates the possibility of relabelling shelves.
The numbering and lettering of labels need to be sequential. To allow the warehouse management systems to accurately read locations alphanumerically, it is best practice to use a zero in all numbers less than ten (i.e., 01, 02, 03, 04).
Lack of consistency in labelling is an easy way to mess up your system. Stick to a uniform label location to avoid confusion.
Essential warehouse signage planning steps
To ensure your facility meets your unique signage requirements there are several key preparation steps required in the planning of a new warehouse/distribution centre or the expansion of an existing facility.  The key points being: –
To avoid errors and additional costs your label manufacturer should be included from the outset in the project planning team.
A careful survey and analysis of your floor plan are needed to identify storage locations and signage requirements.
Your racking and facility should be cleaned to remove dust and dirt which can diminish a label's adhesive properties.
Order pre-printed license plate number (LPN) labels in advance to efficiently identify pallets, cartons, totes and other moveable units. Pre-printed LPN labels are typically less costly than labels printed in-house.
Warehouse label applications, locations and options
Multilevel labels
These are used to streamline workflow by making items and sections easier to identify for employees. Our colour coded upright and cross-beam multilevel barcode labels simplify the management of racking locations in your warehouse and have the following benefits:
Identification of levels using different coordinated colours
Applied at eye level to uprights or crossbeams for ease of scanning
No need for long-range scanners
Excellent scan quality with high definition printing
Designed for fast accurate barcode scanning from truck-mounted readers
Full installation by inotec technical teams
Single location labels and shelf labels
These are used to label shelving and racking. Our single location and shelf labels can be matched to suit all shelving and racking types in any environment: freezer, chill, inside or outdoor.
With a wide range of materials, colours and adhesives, we will design the labels to fit your application and budget. Our labels offer complete compatibility with pick-by-voice systems and can be used with multilevel labels to colour coordinate and manage high stack racking systems. Magnetic, retro-reflective and durable laminated options are available.
Floor identification labels
Warehouse floor labels are ideal for large warehouses with several distinct areas and are manufactured to survive heavy floor traffic. inotec offers a range of durable floor labels to cater for all needs. The Diomaster 250PC (polycarbonate)adhesive labels can be used for simple loads, or the FloorBlock set can be used for greater loads caused by forklift traffic. There is also the option of sinking barcode labels into a warehouse floor (Floortag).
The inotec floortag system is the most durable floor barcode on the market. It consists of a super-durable aluminium plate, which has the barcode and human readable text photo composed into the metal. This plate is then recessed slightly below the floor surface and sealed with a tough polyester resin. The benefits of the inotec floortag system are that it is:
Extremely resistant to damage from heavy forklift truck traffic
Excellent read quality with high definition printing
Designed for fast accurate barcode scanning from truck-mounted readers
Compatible with high-pressure cleaning agents and other detergents
Installed by qualified inotec technical teams
Flat and angled warehouse signs
These can be produced in a range of colours, custom print designs and layouts for any space.
inotec offers a wide range of flat or angled signage solutions. Pre-formed angled signs present barcode labels at the ideal angle for accurate scanning from the ground. Retro-reflective labels can be used to achieve accurate scanning distances of up to 15m. Flat signs made from lightweight durable Foamex offer a cost-effective identification solution.
Overhead identification signs
For identification of high stack and block stack warehouse operations. We offer a wide range of flat or angled overhead signage solutions. Pre-formed angled signs present barcode labels at the ideal angle for accurate scanning from the ground. Retro-reflective labels can be used to achieve accurate scanning distances of up to 15m.
Our flat and angled signs can be produced in a range of colours and custom print designs and layouts. Flat signs made from lightweight durable Foamex offer a cost-effective identification solution.  Our overhead signage systems comprise of:
Inorail system – inotec's monorail overhead signage system
The inotec Inorail system offers a very durable and flexible solution for bulk locations that are hard to identify. With two sides presented at a 45°-degree angle to the floor, the Inorail is designed for easy scanning from both sides. Suspended from the ceiling, the Inorail can easily be adjusted to the ideal height and offers a more solid and stable platform to present barcode labels and additional human readable flat signs.
Pole & cable hanging sign systems
High ceilings, narrow aisles and areas with poor lighting conditions, can all be clearly identified using durable and flexible hanging sign solutions. inotec offer a wide range of pole and cable hanging systems to create clearly organised and professional looking identification solutions, even in the most difficult spaces.
Asset, inventory, and security labelling
For accurate Inventory control, all items must be recorded precisely. Our versatile asset, inventory and security labels make this task easier. With durable barcodes applied to the items, fast, accurate identification leads to extremely accurate stocktaking.
inotec asset labels  
Digital print labels
Using the latest digital print technology we can offer personalised labels with your company logo, unlimited colours and serialised barcodes. Under surface printing makes the barcode durable and scratch-proof. An additional tamper evident feature can be added with special cutting tools that prevent the labels from being removed without being destroyed.
Metal labels
These extremely durable labels have barcode or QR code information photo composed into the metal. They are particularly long-lasting, weather-resistant and ideal for outdoor use.
Ceramic labels
Made from ceramic, these labels can withstand temperatures up to 1,400°C making them ideal for ovens, autoclaves and other cleaning and sterilisation processes. They are also resistant to chemicals and solvents and can be permanently fired or fitted to machinery, stillages, parts and tools.
inotec inventory Diotough labels
Our inventory Diotough label is exceptionally durable. The materials and manufacturing process mean they can withstand extreme weather conditions and are fully water-resistant. This means they can be used indoor or outdoor in harsh environments. They can be used on hire equipment, outdoor assets and will withstand repeated washing and weathering.
inotec security labels
Lotus finish security labels
These labels are designed to make it impossible to write over or deface the barcode.
Polysafe security labels
Special film and processing on these labels ensure that the label can only be removed in small fragments.
Container identification labels
inotec is a specialist in container management labelling and can provide solutions for identifying reusable containers in any material format, in container pools or in open circulation. We offer adhesive and in-mould labels in all Auto Id Formats: Barcode, 2D, and RFID.
inotec adhesive container labels
Our range of adhesives can be matched to suit any container substrate, for example, different types of plastics, steel or wood. Permanent under-surface printing ensures the highest levels of scratch resistance and durability.
inotec labels also guarantee effective handling, enabling fast accurate readability with conveyor or handheld scanning systems, which is so critical to the transport and logistics industries.
Our adhesive labels are weatherproof, UV resistant, scratch-proof, and resistant to chemicals.
In-mould labels
Our in-mould labels can be bonded directly into the surface of plastic containers during the manufacturing process. The bond between label and crate becomes permanent, offering a smooth edgeless surface, which eliminates the risk of contamination behind the label. This makes our in-mould labels the ideal choice for food and pharmaceutical industries.
RFID tag solutions
INO-TAG is the name of our RFID label range which allow fast, accurate, automatic identification of objects without the need for contact or 'line-of-sight' scanning.
We offer a wide range of permanent and flexible RFID smart labels (RFID tags) – for tracking multiple-use totes, crates, containers, and pallets. We convert RFID inlays with a wide range of materials and adhesives, customised to your application.
Your partner for superior warehouse labels
As a label specialist, inotec has a vast amount of experience in providing labelling for a variety of products and applications. The company also has the advantage of a high-tech laboratory where labels are tested under diverse conditions. This has led to inotec becoming renowned as one of the UK's most trusted, experienced and reliable label suppliers.
If you would like to arrange a free consultation or speak to the sales team, please contact inotec UK on 01482 654466 or email info@inotec.co.uk for more information on warehouse signs and labelling.