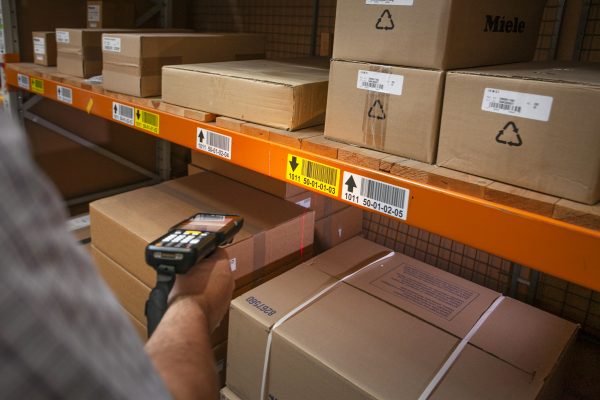 11th February 2020
As the e-commerce industry booms and companies continue to grow, the demands on supply chains and the reliance on warehouse storage facilities have significantly increased. In addition to the growth of e-commerce, companies are also facing shorter delivery time demands – with the added pressures of next day or even same-day delivery.
To be able to meet deadlines, companies need to ensure warehouses are operating and dealing with products in the best way possible for fast and accurate storage and retrieval. Therefore, it is increasingly important to know how to label warehouse racking efficiently so product can be located quickly.
How to label warehouse racking
In order to label warehouse racking efficiently and accurately, inotec UK has established a process which simplifies the development and installation of warehouse labels.
To be able to fully understand your warehouse, inotec take the time to visit your site, observe processes and speak to personnel. It is essential to talk to the individuals who will be scanning the racking labels to understand what challenges they currently face so as to gauge what will work best. It is impossible to select the best method without this knowledge of your site.
Factors to consider when deciding the best method of warehouse labelling include:
The size of the warehouse and the racking system – are there large numbers of shelves or is it a facility with bulk storage locations and less shelving?
Do you change product range and stock quantities often?
What kind of scanners do you use in your facility – are they handheld or mounted onto forklift trucks?
Are your rack labels likely to receive a lot of damage and need replacing often?
When deciding which labelling system is best for your facility, inotec can bring various label samples to site and apply them to your racking so you can see how they would look and scan. This allows you and your personnel to decide on the ideal solution.
Warehouse labelling – which solution is best for your needs?
Expert in manufacturing, supplying and installing durable labelling, inotec UK is highly skilled at providing identification and barcode labelling for warehouses. With an extensive product range, the company is able to offer a suitable labelling solution for all types of racking – both indoor and outdoor. Warehouse racking labelling options include:
Warehouse labelling – a solution for all facilities
All of inotec's warehouse labelling solutions are available in both adhesive and magnetic options. For warehouses which change their product range/storage plan often, magnetic labels provide a solution which allows labels to easily be moved and updated.
In addition to magnetic attachment, inotec also offers the option of label holders. Label holders are an ideal solution for gravity-fed racking systems which may store a variety of different product quantities or may change volume quantities often. The label holders allow warehouse labels to be moved around to suit storage layout updates.
Accurate data collection for WMS and voice picking systems
When deciding how to label warehouse racking, it is important to understand your WMS or voice picking system. If you already have a system in place, it will dictate to inotec the correct location names to be used to ensure the labels are compatible with your WMS for maximum efficiency and accuracy. This ensures that personnel are sent to the right area for the correct product.
A common trend for barcode labelling on warehouse racking is to have an invisible check digit associated with each location. The check digit isn't visible on the barcode label but is entered into the system when personnel scan the label. This level of security ensures that personnel work accurately and visit the correct area without being able to trick the system.
To ensure your rack labels are set up correctly, inotec will work with you to collect both your 'human-readable' information – the data which is visible on the label and the information to be encoded into the barcode. The readable information usually consists of facts such as the racking block, the location number and the pallet space number. This makes up the barcode number on the readable label. The 'barcode scan' information is data which is only visible to the WMS when scanned which can include, for example, additional check digits.
When working with you, inotec will take the data and print proof copies of the label style you have selected. This allows you to check that the label information matches up with your WMS and works as expected. Any amendments which are required can be made at this stage before final production.
Why invest with inotec UK?
With over 25 years' experience, inotec is Europe's leading brand for developing, manufacturing and installing durable warehouse labels. The company continually tests its materials and products in its German laboratory to ensure it provides the best quality on the market. This guarantees that customers receive long-lasting and durable labelling solutions. Labels are laminated, scratch-resistant and cleanable for longevity which prevents the need to frequently replace labels.
Furthermore, inotec has invested significant time and resources to ensure that barcodes are perfectly formed with no errors or malformed lines. This guarantees read accuracy every time for quick and efficient scanning.
If you would like to discuss how to label warehouse racking with inotec UK, contact the team to arrange a site visit on 01482 654466 or email info@inotec.co.uk for info on labelling solutions.