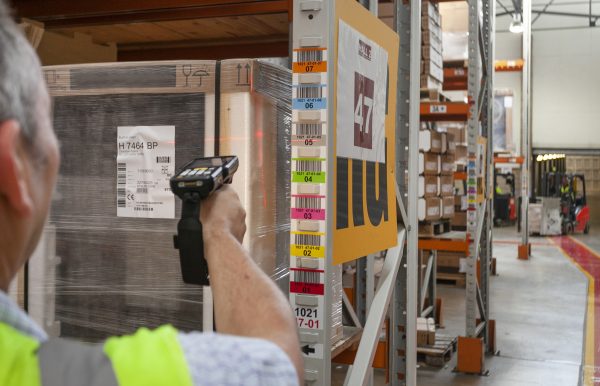 8th September 2019
Warehouse label and flooring specialist, inotec UK is an experienced provider and installer of warehouse marking and signage solutions including barcode labels. Over the years, inotec has seen the use of barcode labels within warehouses significantly increase as companies utilise the benefits. Barcode labels provide a cost effective solution for those looking to increase efficiency, speed and accuracy within the warehouse.
With a large range to suit all warehouse environments, it is easy to see why barcode labels are so popular. Here are the four key ways inotec's barcode labels can increase efficiency and productivity in the warehouse.
1. Barcode Labels Quickly and Accurately Log Data
Barcode labels are the fastest, most efficient and accurate way to store and log data within warehouses. Whether it is recording and monitoring stock quantities or updating the warehouse management system (WMS) with stock movements, it is essential that the data is up to date and correct.
Being able to record data by scanning barcode labels means updates can be instantly sent to the WMS without personnel leaving the current area. Furthermore, there is no need to manually record or write down data which means there is no room for errors. This ensures that stock is recorded both quickly and accurately.
With a design to suit all areas of the warehouse, inotec has a wide range of solutions including overhead hanging signs, racking and shelving labels, container labels and floor tags. This ensures that all areas of the warehouse are able to utilise barcode labels and be connected to the WMS to increase efficiencies.
2. Barcode Labels Speed Up Processes
The use of barcode labels within warehouses can speed up processes by logging and recording data both quickly and accurately. Whether it is an overhead hanging sign label, racking label or floor label, inotec's barcode solutions have been designed for long range scanning. To further enhance scanning, inotec offers an upgrade to retro-reflective labels which allows personnel to accurately scan labels at distances of up to 15m.
This means that personnel can scan from distances such as above head height or on the floor with ease. This increases efficiency as personnel do not need multiple attempts or step ladders to scan high level labels.
Additionally, personnel can read barcodes using hand-held scanners whilst still on the trucks. Not having to dismount each time they need to scan a barcode saves significant time and increases the speed of warehouse processes.

3. Streamline the Receiving and Dispatch of Goods
Manually recording goods in and out with traditional paper methods is not only extremely time consuming but is also prone to human errors or paperwork being damaged or lost. By connecting barcode labels to the WMS, personnel are able to quickly and instantly update the system as soon as goods are received or leave site. This makes it simple and easy to log stock thus reducing any costly errors or misplacements of goods.
Furthermore, once logged in to the WMS, personnel are able to track goods at every stage, ensuring they are accountable and trackable should they be misplaced en route.
4. Hardwearing Barcode Label Solutions
In order to increase efficiency within warehouses, inotec UK has developed and produced a range of hardwearing barcode label solutions. The benefit of a hardwearing solution is that it will last longer and therefore save the company money in the long run with fewer replacements required. Furthermore, inotec's hardwearing range of barcode labels are scratch resistant which ensures that the labels withstand the warehouse environment to remain intact for accurate scanning.
For barcode labels which need extra protection in industrial environments, inotec offers label holders which place the labels in a clear PVC holder, protecting them from dirt, grease and scratches. The PVC cover does not hinder scanning and allows the labels to be protected and kept clean.
For warehouses which require barcode labels to be placed on the floor, inotec has a range of durable and hardwearing labels which can withstand the heaviest foot and truck traffic. Ranging from labels for light foot traffic through to its Floortag® solution for extremely heavy foot and truck traffic, inotec has a solution for all facilities. It is essential to have a floor barcode label system which can withstand wear and tear from heavy traffic to maintain scanning accuracy for quick and efficient processing.
Warehouse Barcode Label Experts
With extensive experience of designing and installing barcode label systems into a variety of warehouse environments, inotec UK has a solution for all situations. If you are considering the benefits of barcode labels and how they can increase efficiencies within your warehouse, contact inotec UK for a consultation on 01482 654466 or email info@inotec.co.uk