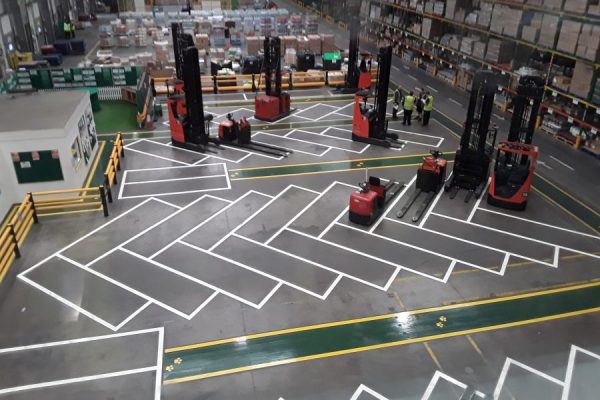 25th November 2021
Your facility floor supports the constant motion of employees and vehicles in your workplace.  Appropriately marked floors are an effective way to prevent potential injuries that can occur in busy workspaces. They also help to ensure the efficient and safe use of space and keep storage items neatly organised and easy to locate.
What is warehouse floor marking?
Warehouse floor marking is the process of creating visual cues for your team to make it easier for them to navigate the warehouse which improves warehouse efficiency.  Warehouse floor marking highlights hazards, outlines workstations and storage locations, divides spaces, directs traffic and conveys important safety information.
The floor is marked using special epoxy paint or tape and floor safety signs. Floor marking is often part of a larger visual communication system that includes racking, shelving and overhead warehouse signs.
Why is warehouse floor marking necessary?
The key reasons warehouses use industrial floor marking to improve both safety and efficiency are to:
Separate pedestrian and vehicle traffic routes as required byHSE Forklift injuries are among some of the most common in warehouses and can prove the most dangerous. These accidents are usually caused by poor training, inadequate supervision, little or no maintenance of machinery or poor delineation of gangways.
According to the British Safety Council, around 1,300 UK employees are hospitalised each year with serious injuries following a forklift accident. These injuries can range from fractures, dislocations and broken bones, to life-changing amputations or worse.
Reduce employee search time and energy with line marking and signage guides.
Maximise and utilise space effectively following lean or 5S methodologies proven to maximise efficiency and profit.
Direct pedestrian and forklift traffic. Floor marking can be used to mark pedestrian pathways and intersections. It lets forklift operators know in which direction and speed they should be travelling.
Alert employees when personal protection equipment (PPE) is required. For instance, in certain parts of the warehouse, it may be essential to wear protective hard hats.
Best practices for floor marking schemes
There are no UK government-mandated or widely accepted standards for floor marking schemes.  As a result, companies often use whichever colours are available and miss the chance to organise their work efficiently and effectively.
Here are some useful tips for the creation of effective floor marking schemes:-
Use as few floor marking colours as possible. This makes it easier for employees to remember the meaning of each line marking colour.
For ease of identification, the deployment of distinct floor marking colours for the demarcation of specific areas, aisleway and work cell boundaries is recommended. The overall lanes and sectors of a workplace are made more visually clearer when different colours are used. Therefore different floor marking colour schemes should be used for clearly marking out:
Pedestrian pathways.
Forklift truck routes.
Work cell and equipment boarders.
Areas to be kept clear for safety and compliance.
Emergency exit routes
Firefighting and safety equipment areas and associated wall signage.
Spaces in front of electrical panels.
Material storage areas.
Non-material storage area with fixtures such as racks that hold raw materials.
Areas that should be kept clear for operational reasons, such as those areas that need sufficient clearance for forklift trucks.
Floor marking services and installation
Inotec's line-marking and floor painting systems have been developed to offer the best in durability for industrial and logistic applications. We offer solutions designed to match your warehouse floor type and environment, ranging from ambient and chilled to freezer.
Our systems are installed with minimal disruption to your operation. Typical applications are marking of warehouses, 5S workplaces, car parks, safety areas and walkways, lorry parks, symbols and alpha/numeric stencils – in any location where a long lasting, durable image is required.
Our solutions include:
If you would like to arrange a free consultation or speak to the sales team, please contact inotec UK on 01482 654466 or email info@inotec.co.uk for more information on warehouse signs and labelling.