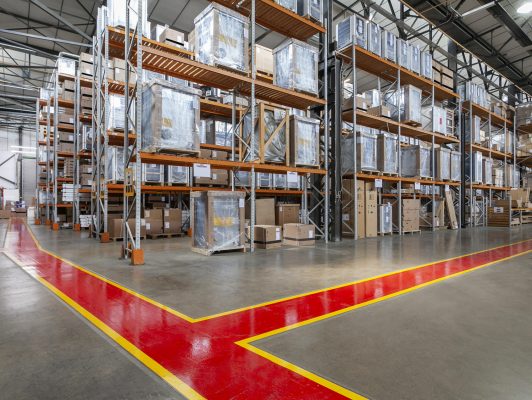 18th September 2019
Warehouse signage and floor marking specialist, inotec UK, has recently completed a £60,000 project for an electrical appliance manufacturer at its 23,200 sq m national distribution centre in Abingdon, Oxfordshire. The contract has seen inotec install 540 sq m of infill walkways, 1800 m of line marking, 600 floortags, 550 multilevel labels and 5500 single location racking labels to improve health and safety, accuracy and productivity on site. The busy facility services both e-commerce and B2B retail customers.
The complete project saw inotec install 540 sq m of Duraline RapidshieldTM red infill walkway around the warehouse. Previously, the site only had minimal marked walkways across vehicle traffic areas. As the number of pedestrians within the warehouse increased, it became important to implement clearly marked pedestrian walkways around the site. This solution increases health and safety on site by ensuring pedestrians have a designated route to avoid any potential collisions with truck traffic.
For a quick drying time, inotec used Duraline RapidshieldTM for the walkways which is cured with a clear UV topcoat. This meant there was minimum disruption to productivity. The inotec team was able to lay the walkways overnight so that they were dry and ready for use in the morning. In addition to a quick drying time, the UV top coat offers a hardwearing and longer lasting solution for high traffic areas, preventing degradation from pedestrians and trucks.
In addition to the warehouse walkways, inotec replaced existing line marking. These had become worn and needed refreshing for the new storage system being implemented. The new Duraline RapidshieldTM yellow line marking installed clearly highlights the fixed bin locations making it easier to store and retrieve products. The project also saw inotec lay corresponding bin location numbers within the same area.
Floortags and racking signage
For the final element of the project, inotec supplied and installed 600 floortags around product storage bins. The floortags can be RF scanned and each one is unique to the bin in front of it. As the floortags are set slightly below floor level, they are able to withstand foot and more importantly truck traffic wear and tear. This prevents them from being scratched or damaged and ensures accurate barcode scanning. Truck operators are able to scan the barcodes from the trucks without having to dismount each time.
As well as floortags, inotec supplied multilevel and single location racking labels which integrate with the warehouse's new storage system. The labelling system allows personnel to easily store and retrieve products.
Kevin Wells, warehouse operations manager comments: "Originally we only asked inotec to quote for warehouse line marking, however, each time we discussed the project we realised there were more jobs inotec could do for us that would improve our operation. This led to inotec supplying infill walkways, floortags and warehouse racking labels.
"Before we placed any orders with inotec, they arranged for us to visit sites where previously they had completed similar projects. This allowed us to see for ourselves the quality of their work. We were extremely impressed with their professionalism and workmanship and it was these qualities that won them the initial project.
"We put a lot of pressure on inotec by giving them a ridiculously short lead time to deliver the project, but they pulled it out the bag and got everything completed in time. The inotec team managed everything on site and liaised daily with us to let us know which areas they'd be working in and if stock needed moving. This kept the installation process running smoothly and led to minimal disruption.
"Steve Towler, inotec's southern Sales Manager really understands logistics. His warehouse experience meant that he was able to relate to how we work and advise us accordingly. If he wasn't visiting on site, he was always on the end of a phone and this allowed us to have a strong working relationship to deliver a great result."