Using visual signs and labels most appropriate for your facility can keep your warehouse working smoothly and help prevent accidents. This article shows how the use of such visual aids can reduce the risk of accidents related to block stacking.
What is block stacking?
Block stacking is a warehouse storage method in which goods are stacked directly on the floor. It can bring several logistical benefits when this storage technique is employed correctly.
This storage system consists of stacking unit loads (pallets, boxes, or products) one on top of the other directly on the floor of the warehouse, without resorting to racks. The goods may or may not be palletised, depending on the type of product being handled. The only condition is that they be strong enough to withstand the weight of any other products stacked on top of them. Otherwise, if the product is fragile, the structure could collapse.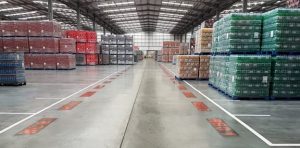 Pros and cons of block stacking
Block stacking in a warehouse brings the following benefits:
Cost savings: Block stacking is the most economical technique of all, as it doesn't require racking.
Space maximisation:by removing unnecessary aisles space is maximised by stacking the loads.
SKU management:for block stacking to be efficient, it's crucial to form high-density groups of a single SKU (stock-keeping unit). This serves to control the stock for easy product identification and management.
The disadvantages of block stocking include:
Height limitations:this depends on the type of load stored. That is, if a large amount of product is stacked, the structure could become unstable and collapse. Only the use of racking can guarantee the safe storage of loads at significant heights.
Damage to goods:if the weight of the stacked load is excessive, the merchandise stored on the lower levels could become damaged.
Risk of accidents: racking is sturdy and remains intact, minimising impacts from handling equipment and ensuring total stability of the loads they hold. By contrast, block stacking doesn't have these benefits, making it more prone to risks and accidents.
Stock Rotation. Block stocking is generally utilised on a FILO basis, where the first pallet in a lane is the last pallet dispatched out, so it is not suitable for products with a limited shelf life. This, however, can be managed efficiently for large quantities of product with a single SKU, where each lane is completely emptied before an adjacent lane is picked.
Common warehouse storage accidents
One of the most common accidents related to storage is a stack collapsing. When materials are stacked too high or in an unstable arrangement, removing an item from the stack or bumping the stack can cause the rest of the materials to fall. If heavy objects are involved, this can pose a real threat to employees.
The HSE reported that, in 2021, being trapped by something collapsing or overturning caused 10% of fatal accidents, and 10% of non-fatal accidents in the workplace.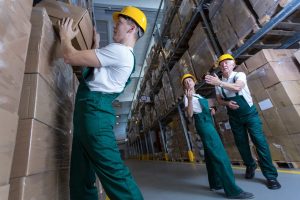 Minimise block stacking safety risks and improve efficiency with visual aids
Employers have a legal responsibility to protect all their employees, as well as contractors and visitors to the warehouse from risk of accident or injury.
Signs and floor markings should be clearly placed around the warehouse to warn of hazardous areas and show where PPE is needed. Using such visual cues to remind employees where to put stacks and how high stacks should be piled are simple ways to prevent mishaps.
Marking the maximum height of a pile on a wall or shelving unit can keep piles from growing too high. Introducing a permanent visual reminder of height limits will help warehouse workers considerably, as they won't need to guess if a pile is too high or get out a measuring device to check the height.
Overhead mounted long-range scan barcoded identification labels and floor labels can be used for efficient and safe stock identification and management.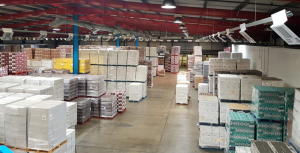 Line marking can be used to mark aisles, which can prevent warehouse workers from placing pallets, boxes and other materials in the way of people or vehicles. It should also be used to mark pedestrian traffic, vehicle traffic, loading areas and other activities related to moving supplies and products.
Additional sign usage throughout the workplace can help keep your warehouse working smoothly, so select signs and labels most appropriate for your facility.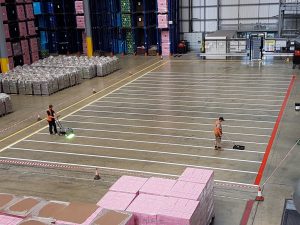 Case studies of block storage safety improvement projects
Inotec UK a renowned label and warehouse floor marking specialist recently completed block storage safety improvement projects at UP Global Sourcing Holdings plc's warehouse in Oldham, and schuh's new distribution centre in Dublin.
UP Global Sourcing benefits from 400 inotec Floortags®.
UP Global Sourcing Holdings plc design, manufacture and distribute branded kitchen and laundry products, including many household names such as Salter and Beldray. It sells its branded products to over 300 retailers in 38 countries. To identify large quantities of its block stacked products with one SKU held in lanes on multiple floors of old mills, inotec installed 400 of its market leading Floortags®.
These floor identification tags are the most robust floor barcode on the market. They are constructed using an extremely durable aluminium plate with the barcode or readable text photo composed into the metal. During installation, the plate is recessed slightly below the floor surface and sealed with a tough polyester resin. The strong materials make the floortags® extremely resistant to damage from heavy truck traffic, foot traffic and industrial cleaning products.
Following research and development, inotec has developed its range of floortags® to ensure they are consistently readable and will last for several years. The durability of the floortags® allows for the fast and accurate scan of barcodes – even from truck height. Furthermore, the robustness of the floortags® reduces the need to replace them which can cause costly downtime. This makes them an ideal long-term solution for very busy warehouses which see high volumes of daily traffic.
With inotec's shoebox pick system schuh improves warehouse efficiency
For leading shoe retailer schuh, inotec installed a dedicated line painted shoebox pick area at its Dublin warehouse, as shown in the picture below.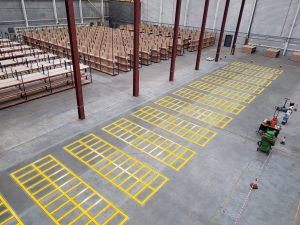 This block stacked picking area is regularly stocked with boxed shoe stock held in nearby racking. Shoe products are identified with 288 of inotec's floor-mounted aluminium adhesive barcode labels. The boxed shoe stock is condensed into a smaller floor area than those stored in racks, which enables shorter travelling distances between picks and faster stock collection. Therefore this makes schuh's stock picking operation a lot more efficient than picking from pallets in racks with wide aisles.
YOUR PARTNER FOR WAREHOUSE LINE MARKING AND SUPERIOR LABELLING
As a renowned barcode label specialist, Inotec has a vast amount of experience in providing labelling for a variety of products and applications. The company also has the advantage of a high-tech laboratory where labels are tested under diverse conditions. This has led to inotec becoming recognised as one of the UK's most trusted, experienced and reliable barcode, line marking and RFID label suppliers.
Inotec's line-marking and floor painting systems have been developed to offer the best performance and durability for industrial and logistics applications. We offer solutions designed to match your warehouse floor type and environment, ranging from ambient and chilled.
Our systems are installed with minimal disruption to your operation. The typical applications of inotec line marking systems are the marking of warehouses, 5S workplaces, car and lorry parks, safety areas and walkways, and any other locations where long-lasting images are required.
Inotec warehouse solutions include:
Take a look at other customer projects for more information on inotec offerings. If you would like to arrange a free consultation or speak to the sales team, please contact inotec UK on 01482 654466 or email info@inotec.co.uk for more information on warehouse signs and labelling.
Related articles: