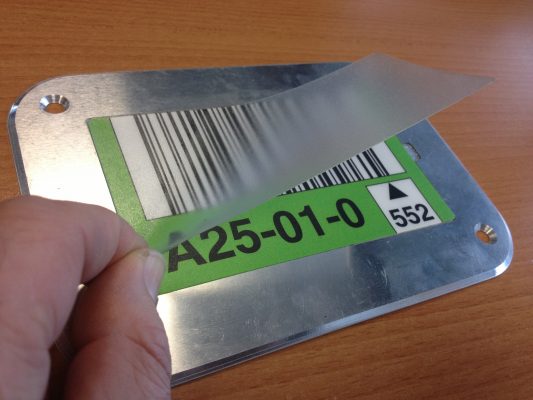 27th October 2020
Warehouse solutions, barcode security and RFID label specialist, inotec UK, has expanded its warehouse identification range with its new Diomaster 250 PC Floorblock TRANS HUW (Diomaster Floorblock) labelling solution. Developed by inotec in France and now available in the UK, the protective Diomaster Floorblock labelling system is ideal for warehouses which print their own labels on-site.
The Diomaster labelling solution is a high-quality blank polycarbonate label cover protecting self-made labels which are fixed to the floor within a solid cast aluminium frame (Floorblock).
Logistics facilities which handle frequently changing stock items and stock layouts, often face the issue of own-printed labels not being sufficiently durable. The Diomaster label solution allows users to place their printed labels inside a 2-3 millimetre recess within the aluminium Floorblock which is screwed to the floor.
The polycarbonate Diomaster cover sits on the top of the label and adds extra protection from foot and truck traffic in the warehouse, as well as potential daily wear and tear. This ensures complete protection for the efficient readability of labels. Not only can the label under the Diomaster cover be easily replaced as and when required but also, the Floorblock unit can be easily unscrewed and repositioned.
David Stocker, sales director at inotec UK comments: "The Diomaster Floorblock solution is a great addition to our warehouse labelling product range. The combination of the label cover with the aluminium label holder creates a robust system for warehouse identification marking – even when printing your own labels on-site.
"Damaged or unreadable labels cause operational delays which can have significant financial implications. If labels can't be scanned or locations found, it can cause serious disruption in the supply chain. The Diomaster labelling solution prevents this to ensure warehousing identification performs at an optimum level. We are now able to offer this cost-effective and long-lasting labelling solution to all our UK customers."