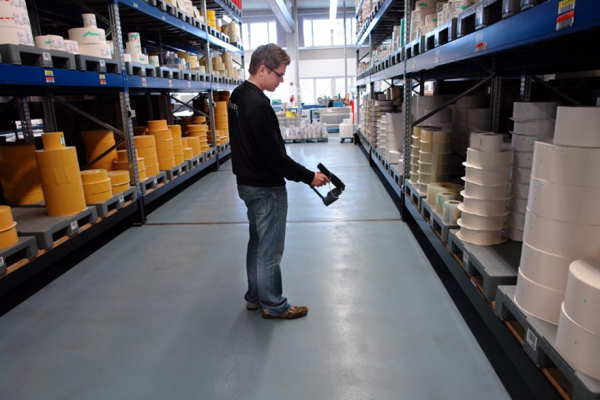 15th September 2021
There is no doubting the benefits of using RFID (radio frequency identification) tags as an automatic identification solution for your logistics operation. This track-and-trace technology can be used to uniquely identify your products, reduces human error and helps to streamline business workflows.
Passive RFID tags (those without a power source) are already widely used in today's fast-moving logistics operations. They have proved to be effective solutions for the productivity and efficiency demands required to swiftly and safely move assets around an organisation.
However, to ensure the success of an RFID operation, it is important to understand the various types of RFID tag and label solutions, and their different applications. Only then can you decide which is the right option for your operation.
Selecting the right solution
RFID belongs to a group of technologies referred to as Automatic Identification and Data Capture (AIDC). AIDC methods automatically identify objects, collect data about them, and enter the data directly into computer systems with little or no human intervention. RFID methods utilise radio waves to accomplish this.
In addition to the tags, there are the questions of hardware selection to consider, RFID reader software and an asset register system for tracking data.
As well as deciding on the best type of tag, it is important to think about the cost of the entire RFID package. Although the costs involved are now much more viable, it is crucial to understand the level of investment required and later in this blog we will look at ballpark budgets for a complete system.
Calling in the experts to help you at an early stage of your RFID project is highly recommended. Reputable manufacturers and suppliers, such as inotec, will make a free, thorough assessment of your requirements before proposing a suitable solution.
Durable RFID labels for HF and UHF applications
Most RFID tags that are sold today are UHF (ultra-high frequency). These UHF tags have a greater read range (10+ metres) than HF (high frequency) tags which are restricted to a maximum read range of up to one metre. The UHF tags are also passive which is to say they do not have an in-built power source but are powered by a radio signal from an RFID reader.
These UHF tags are the most commonly used because they are available, adaptable and open to being used in many different applications and industries.
The versatile RFID label range from inotec is called 'inotag' and is available in a wide range of materials including paper, polyester and polycarbonate. These RFID labels can be supplied either blank for in-house printing and encoding or pre-printed in full colour and encoded. They are manufactured in a broad range of formats and sizes and are suitably durable for both internal and external use.
RFID Hard tags to suit any RFID application
The type of RFID tag you select will depend on the environment where the assets are located, the elements they may be exposed to, together with the surface to be tagged. Many hard tags are suitable for high temperature and on-metal applications.
The comprehensive collection of inotec RFID hard tags is offered in a range of formats and sizes. They can be supplied with blank chips or fully encoded with your data. Coupled with inotec's transponders which are protected by a special rugged plastic casing, they are a durable solution, offering robust asset identification even in the harshest industrial environments.
Low profile on-metal solutions for greater flexibility in demanding environments
Although metal surfaces can obstruct the way RFID transmits data, special on-metal tags have been developed that block this interference. While inotec has marketed on-metal hard tag RFID solutions for many years, the company now has two low profile, flexible, on-metal label tags: the inotag 'Flex on metal' tag and the inotag 'Flex on metal spacer' tag.
Offering a very low profile, less than 2mm thick, the inotag Flex on metal tag can be applied directly to metal assets, even if they have an uneven or difficult profile. Finished with a strong industrial adhesive, the inotag Flex on metal spacer tag has a larger profile of 4.7mm. This durable tag can withstand exposure to heat and cold, chemicals involved in wash processes as well as strong shearing forces and vibrations.
Concrete embedded RFID tags – track and trace in the toughest environments
Recessed and embedded into hardened concrete or positioned in reinforcement frames as concrete is poured, inotec has a range of RFID tags that can be embedded in concrete. These can be encased up to 16cm from the surface or positioned below ground either inside or outside. Installation can also be carried out in all types of floors including resin, asphalt, tiles or concrete. The tag is placed inside a slit in the floor and the recess is sealed with a tough epoxy resin that hardens in two hours and is fully cured in 24 hours.
Completely resistant to heavy traffic movements, chemicals, weathering and vandalism, these tags whilst being highly durable, have been developed to provide accurate asset tracking even in the toughest of environments.
They have an excellent read range from readers mounted on pick trolleys, as well as hand-held or truck-mounted scanners. The inotec RFID tags can be reprogrammed with new data and repurposed as required; they can also be remotely disabled, so no removal or restoration work is needed to the floor surface or concrete moulding when changes are needed.
RFID – ballpark costs for budgeting
For an RFID system to work, it needs 'touchpoints' to gather the data and make it useful. These touchpoints could be a person with a handheld scanner, a fixed reader on a conveyor system or a 'portal' set up across a warehouse gate.
The estimated cost of a system is determined by the number and type of touchpoints that are required, plus the cost of any integration, building the system and making it operational.
Finally, there is the cost of the software to run the system and to gather data from your touchpoints, decoding the data and delivering it to where you need it.
Touchpoints – approximate costs
Handheld readers – these can vary in price from around £800 up to £2,500 per unit.
Fixed conveyor reader – costs range from £3,000 up to £5,000 per unit (including antenna, processor, cabling and set-up).
Gate reader or portal – costing from £10,000 to £15,000 per unit, they usually consist of 2 or 4 antennas, plus processors and a rigid fabricated frame.
Software and integration
The cost of software and integration of an RFID system will depend on exactly what you want the system to do, but an approximate price would start from around £30,000.
Take your warehousing to the next level
If you're looking to streamline your warehouse operation, then RFID technology can provide extremely significant gains. It not only improves accuracy by eliminating human error, but also increases efficiency by automating processes. In addition, when an item is moved within your facility, it updates the computer system as to its exact location in the warehouse.
If you're thinking about investing in RFID track-and-trace technology, call inotec UK on 01482 654466 or email info@inotec.co.uk for expert advice and a free evaluation of your requirements from a trusted supplier.